Compnix Dedicated Servers
There are several reasons to have a Compnix Dedicated Server
Our extensive range includes great value entry-level servers, high capacity storage servers featuring Intel Sandy Bridge processors and top end servers with up to 64GB RAM, 32 cores and lightning fast Solid State Drives.
Unlimited bandwidth
With unlimited bandwidth and our 100Mbps high-speed connection, no matter what level of demand is placed on your dedicated server, your server will always perform at its best and you'll never receive an additional bandwidth bill.
SSL Certificates
All Compnix dedicated servers now include an SSL certificate from trusted provider free for the first year
Online Backup
Automated backup and recovery.
Operating systems
Choose from the latest Windows and Linux operating systems
Simply choose the Windows or Linux operating system that suits your needs.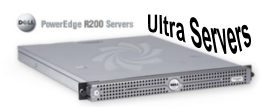 Some Ideas of Price