Website Design Choices
SiteDesigner is a fully hosted website builder allowing you to create, manage and host your website - all from the same package. No additional hosting packages, software or add-ons are required; all you need is a domain name and SiteDesigner. This is for the Dedicated Professional Web Designer and is a fully hosted website builder allowing you to create, manage and host your website, all from the same package. You can try out free with the fully featured demo below by linking above using this particular Website Design Package (SEE DEMO) or... simply use one from our standard range of packages listed below.
SiteDesigner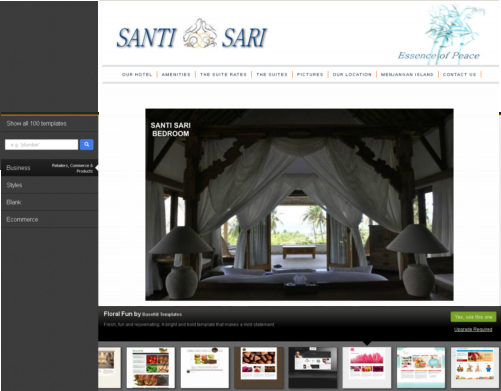 SiteDesigner Demo
We've added a powerful new tool to our product line, brand new website builderwith SiteDesigner! Available in both Standard and Pro forms, SiteDesigner is a feature-rich builder which helps you to create attractive, fully-functional websites in minutes. Design great looking websites without writing any code quickly and easily with SiteDesigner because not every website builder is created equal. Find out why SiteDesigner is the only choice for beginners and professionals who want to build beautiful websites quickly and easily. Choose from hundreds of purpose made professionally designed templates and then make it your own. Alternatively you can start from a blank canvas, the choice is yours. Edit every font, colour, image and text to truly create a unique website that is completely your own. Site Designer is a fully hosted solution which means you don't need to buy any additional products to see your website published on the internet. All you need purchase with this package is a domain name and add the SiteDesigner version of your choice to provide you with a complete solution. You may also transfer in a domain name and attach SiteDesigner to this domain .
LOOK AT THESE ITEMS AS WELL
Simply go to the Quotation Form Link, fill it out the best you can and we will get onto it straight away and you will have a reply that same day by email. We do this all the time and there is NO COST to you. We can guide you through your needs before you take any steps... Suggestion - you have a quick look at some of our Example Web Pages and that is all you have to do ...SIMPLE!
If you need a small family or club website our Basic Bronze Web Hosting Dite Designer Service is just what you might need. Ranging from very little per month paid annually you can have a fully functional hosting package with huge e-mail management facilities and full control panel with lots of goodies to make your site that little bit more special.
Our Small Business Web Hosting Packages are extremely cost effective and easy to manage. This package allows you to spend your time running your business and not worrying about your website, commercial activities and e-mail facilities.
If your main business is purely web based and possibly E-Commerce driven you may need extremely large disk space and bandwith to manage your online store or E-Commerce website. That's when our professional hosting package comes to the fore and is possibly the one for you to consider.
New to the web and dont know quite where to start? Simply contact us and let us know what your current state and also what your future state may be and without obligation we could advise you on your best course of action maybe even put together a package for you and demonstrate to you that this will fit your needs, your budget and still be of the highest quality available.
Are you looking to start a small or medium store online?
At Compnix Internet Hosting we have many years experience with all types of E-Commerce so, talk to us about your requirements and possibly we can make your dreams turn to reality without you having to spend a penny until you are sure.
Could all your information be somewhat out of date? Well then...
At Compnix Internet Hosting we will be happy to undertake any types of website updates and will work efficiently and quickly to get everything back up to date.
Before you do ANYTHING more and even consider creating your own designs we suggest you have a quick read of our Self Web Build Page ...it is an FREE Add-On
within Your Control Panel